Lawrence Frederick (Slim) Semmler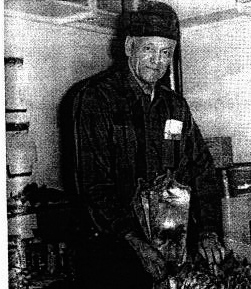 Slim Semmler, 1982, Inuvik

Photo courtesy Harry Palmer
Lawrence Frederick (Slim) Semmler was born August 4, 1900 in Newberg, Oregon. Leaving home in his early twenties, he worked his way up into Canada, first homesteading in the St. Paul, Alberta area. In 1930, he moved to Herschel Island in the Western Arctic where he set up as a private fur trader. He expanded his trading operations eastward into the Coronation Gulf/Coppermine area, where he met and married Agnes Norberg. They were a couple for sixty-seven years.
In 1945, he brought his family to Tuktoyaktuk by dogsled and settled at Napoyak. He ran a mink ranch and trading post.
In 1956, when the Government of Canada was in mid-construction phase for the new community of East Three, later to be renamed Inuvik, a number of Mackenzie Delta people moved to the new Arctic township. Most of the Inuvialuit families that relocated from their Delta bush camps or their Beaufort Sea coastal fishing camps had family ties with other settlements around the Western Arctic and in Alaska.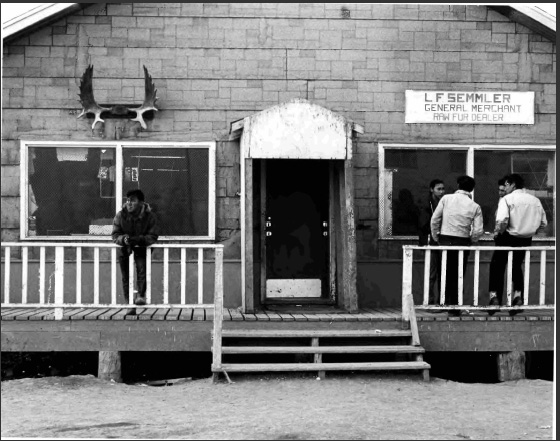 Semmler Trading Post, Inuvik, circa 1973
Among the first Inuvialuit to arrive to Inuvik were; Elijah Harley, Peter Joe, Billy Day, Rufus Tingmiak, John Keevik, Johnny Aviugana, Stanley (Shorty) Gordon, George Harry and a host of others that are too many to name. John Keevik was the last elected Inuvialuit Chief for the Mackenzie Delta in approximately 1953, before any land claims or politics had arisen." (Inuvik Community Conservation Plan, January, 1993 p.1-4)
Some of the first Gwich'in families to arrive were those of Alex Greenland, John McDonald, Jim Koe and Daisy Harrison. As well, in 1956, the Semmler family also moved to Inuvik where they started the first store in a tent frame down by the beach near the Happy Valley campground. Later they built a permanent trading post up on Mackenzie Road on the site presently occupied by the Semmler Office Building.
By 1957, with their children now enrolled in a school that operated in a 512 [square foot] building in the west end of Inuvik, the new residents had formed a Parent Teacher Association with Billy Day as the first Chairman of the board. While their children were in school, many of the town's newcomers continued their traditional subsistence hunting and fishing practices in order to provide food for their families by traveling back and forth to their former camps and their traditional land use areas. While many people got town jobs in construction, and only traveled to the bush on the weekends, others continued trapping for seasonal furs in order to trade for basic goods at the Semmler's Trading Post.
"L.F. (Slim) Semmler was also one of the first fur traders to arrive in Inuvik, setting up a store in a tent along with his wife Agnes Semmler (Norberg). Slim had grubstaked a lot of the local and outlying trappers during the hard times. Slim very rarely turned any trapper away. After ratting [muskrat] season was finished, Slim's store was like a family gathering place to the local Inuvialuit and Gwich'in. Each relating to others what type of season they had. Not only did Slim assist a lot of trappers, he also purchased a lot of rabbits and fish to supply the construction." (Inuvik Community Conservation Plan (January, 1993, p. 1-4)
Retiring in 1984 at the age of 84. Over those trading years Slim had helped many hunters and trappers. "Everyone remembers him as a kind and generous man." (Inuvik Community Conservation Plan (January, 1993, p.1-4). He died in 1998.
"Slim lights another candle", Northern News Service, August 8, 1997
"Saying so long to Slim", Northern News Service, March 20, 1998